WELCOME TO elevate designs
Michiana's Leading
Website design Agency
There's a reason we are the best website design company in Michiana. We pride ourselves on providing our clients with nothing but the very best!

Read More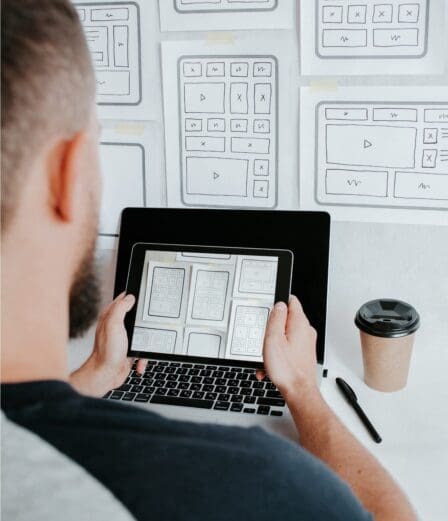 Hello. We're Elevate Designs!
We're a passionate web design and web development company in Niles, Michigan, committed to supplying fresh, unique, creative digital services to small and medium businesses. With a hard-core focus on delivering results, our efforts are based on exploiting technical prowess, years of experience, and industry insight to help you achieve digital success.
Modern website solutions.

Reliable website hosting.

Customized business solutions.
Reliable support services.

Streamline workflow processes.

Affordable pricing structure.

Scalable growth strategies.
Service Built Specifically for you
We're more than a Web Design Company
Website development, graphic design, and online marketing are what we do for a living, but are also our passions. Everyone working at Elevate Designs enjoys what they do and that shines through our work. So when you hire us for a project know that someone is pouring their passion into each project.
Checkout our Recently Completed Projects
What clients are saying about us.
Elevate Designs has provided excellent IT services for our company over the years. They are proactive and innovative in their security solutions and do an excellent job managing our back office needs. Great Group
WOW !!!! The response from this new site that was built from scratch compare to my old site that look like it was from the 70's this new fresh looking website has generated so many calls !!!!! World class service !!!!
Highly recommend Elevate Designs! Jordan did a great job for my business website. Completely satisfied.
Jordan, was fast, friendly and very helpful. I was in a crisis and he stepped up and hit a homerun. Definitely, recommend. His prices are much better than what I was paying as well.
As a small business owner!! I started a Google website about 2 years ago.. Noticing very little traffic.. So I decided to reach out to an IT professional.. I came across Elevate design, Not only did Jordan answer the phone, but He put my business 1st at all times.. Acknowledging The crucial pieces that were missing.. In customer traffic to my Google website.. After the 1st couple of months of working with Jordan and his IT professional crew.. I was noticing more and more traffic. Then after the 1st year Of my Google presents. I watched my website grow more and If there is anyone I trust with my website and Google presents it's Elevate design.
I have no words to thank Jordan for his great work ethic. He is very responsible and professional he build me a website for my roofing company CK Superior Roofing in no time, before him I try one website designer in Elkhart IN which took seven months and did deliver me a thrash website then, I try one website designer in Chicago IL and he deliver me a website that was not connected to SEO and was not functioning correctly was another thrash website and another nine months wasted, then I find Jordan since day one he was working on it he delivered a perfect website, all I can say anybody that contact Jordan for any of his services will be in good hands, He is just the best in Michiana.
Our business came to Jordan after an extremely unsatisfactory experience with another designer. Jordan listen to what we were looking for, made suggestion for addition that we didn't know existed and created a professional looking website which has greatly improved our businesses interest presence. Even after creating the website Jordan has been there to answer questions, do changes to the website and fix an problems which have arose. Truly a professional to work with and I highly recommend them for your website design needs.
Jordan Jankowiak is prompt, professional , and helps problems we have and with suggestions he makes our lives easier. He gets 5 stars.
Amazing work, love the design and heart behind the design. So reliable and above and beyond what we could ever want and would recommend to anyone interested in using Elevate Designs! Couldn't be more satisfied!!!
If you need a new website or update, look no further than Elevate Designs! Professional, knowledgeable and on time. Our website has never looked better! A 1 quality and care!
Elevate Designs did an amazing job designing our website and also provide outstanding IT support. Couldn't be happier with their services and highly recommend them to anyone!
We were looking to create and develop a church - ministry website after we moved and had a name change. Jordan at Elevate Designs took charge in the creation and design, producing the desired results and delivering the message we hoped to achieve. Jordan is a pro and is very knowledgeable and up to date with current designs. Elevate designs really delivered for us!
Jordan helped me with my website about a year ago. Since then, I've had nothing but a good experience with the website and customer service that Jordan provides. The website that he has that for me has propelled my business forward and has gained me more customers than I ever had. I highly recommend Jordan and all of his services
They really made it easy to have my company website built as I continued to focus on other matters. I dreaded the time it wasgoing to require to do it on my own. Many thanks.
As a non-profit, it was hard to find time to revamp a (very) outdated website. Jordan rebuilt our website to have all the capabilities and the look we were wanting and has been amazing at changes on the fly. Highly recommend!
Elevate Designs did a fantastic job in just a short period of time. After my business partner passed away I was faced with rebranding my business and setting up an all new website. Not only did they do it to perfection, but they even assisted setting up and hosting my new URL and email. GREAT JOB ELEVATE DESIGNS. I will refer all my friends to you as well!
I hired Elevate Designs to build a website for my Roofing company. They spent a lot of time with me going over all the information that they were going to need and the ideas that they had for the website. They kept in touch with me during the complete process and kept me in the loop of what was going on with the website. When they were finished with the website, they had me go over it to see if there were any changes or things that I wanted to add . Overall I was very impressed with the professionalism and the communication that Elevate Designs gave me on this project. The original estimate that was given to me by them was exactly what he quoted in the beginning. If I need any additional work done on our website in the future, I would not hesitate to call Elevate Designs again.
Jordan has created multiple websites for me and they are uniquely curated to my needs. The continued support that is offered is amazing!